With an ever-changing world, the need for young children to build confidence is more important than ever. Nowadays, options for off – screen activities for toddlers are becoming limited with technology dominating so many aspects of everyday life. However, Clip 'n Climb Ipswich is challenging this by offering toddlers the opportunity to reach new heights, through a climbing experience like no other as well as a fantastic 3-tier soft play area!
A sensory sensation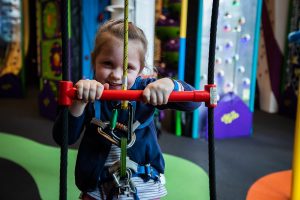 When toddlers first enter the centre, their first reaction is often "wow!" The bright colours and interesting patterns on the walls capture their attention and immediately intrigue them. Clip 'n Climb Ipswich engages young climbers in a way like no other, offering over 40 challenges designed to stimulate several senses simultaneously. Young children will quickly gain confidence and start to make progress even after the first session. Our friendly staff members will guide and assist young climbers and make the session even more interactive by adding additional popular character images to the walls for the toddlers to collect. Children will leave the morning with a beaming smile knowing that they have overcome their fears and achieved something new. 
Developing key skills
At Clip 'n Climb Ipswich, we pride ourselves on being an inclusive, family friendly activity for all ages. At the centre, toddlers not only have fun but also develop key skills that will be useful in later life. Climbing engages many muscles, fantastic for developing a toddler's gross motor skills and strength. As well as improving physical competency, it additionally improves their mental ability as toddlers will need to use their logic to overcome challenges and navigate their way up the walls.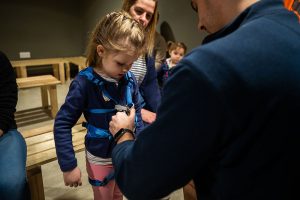 For many toddlers, the first couple of climbs can be daunting and may require some additional support to help them get over their initial fear. Here at Clip 'n Climb Ipswich, we have a great team of staff with a track record for getting nervous toddlers happily clambering up the walls! With the incentive of a small prize, many toddlers will push the fear to the back of their mind and climb to find the hidden characters climbing on the walls. This basic challenge has improved our toddler sessions further as it engages toddlers with a tangible reward. 
In times where technology is becoming a bigger part of society, it is important to keep toddlers active and engaged. Clip 'n Climb Ipswich provides a unique, confidence-building experience whilst also allowing them to have a great time!